Welcome!
The Arkansas Society of Respiratory Care was established in 1962. Today there are over 500 members who have discovered the benefit of the professional society. The Arkansas Society of Respiratory Care is a chartered affiliate of the American Association for Respiratory Care.

---
It is now time to vote for the Arkansas Society for Respiratory Care Board of Directors! Elections will open Tuesday, September 1, 2015 at 06:00, and will close Monday, September 14th, at 23:59. To cast your ballot, please follow the election link below. This link will also be posted on our website (www.arksrc.org). Be sure to vote before the September 14th!
You may access the election by clicking the link below:
https://eballot.votenet.com/ASRC
Please note:
· Username: Your last name (if you have two last names, place a space between them (do not use a hyphen mark)
· Password: Your AARC number
If you have problems accessing the election, or completing the voting process, please contact Ben Downs at bdme2143@gmail.com.
---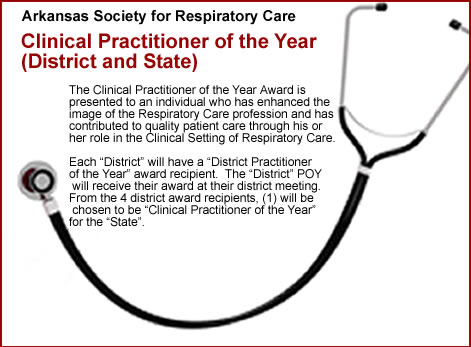 Download Word Nomination form here and email completed form to:

david.gibson@salinememorial.org


---


<<Click Here to Nominate an Individual for a 2016 Board Position>>


---
---
---


Click above to download and read PDF document

http://c.aarc.org/advocacy/lobby_week/

---
University of Arkansas for Medical Sciences- Respiratory & Surgical technologies 2015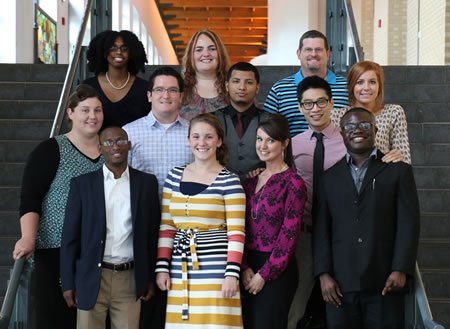 ---

Nominate a deserving Respiratory Therapist for "Clinical Practitioner of the Year"!
The Clinical Practitioner of the Year Award is presented to an individual who has enhanced the image of the Respiratory Care profession and has contributed to quality patient care through his or her role in the Clinical Setting of Respiratory Care.  Each "District" will have a "District Practitioner of the Year" award recipient.
Award Eligibility Criteria:
*     Candidates must be an active member of the ASRC.
*     Candidates must have demonstrated activities beneficial to the
profession in the current year to be considered for this award.
*     Candidates must have consistently demonstrated clinical
contributions.
*     The candidate must be nominated by an active Respiratory
Therapist.
*     The candidate must be an active employee working in a clinical
setting (Hospital, Durable Medical Equipment, Clinic, etc.) (part time or full time).

Please download PDF Nomination Form in Adobe Reader or Acrobat, save it and submit to: David.Gibson@Salinememorial.org

---
---

Scenes from the South District Respiratory Conference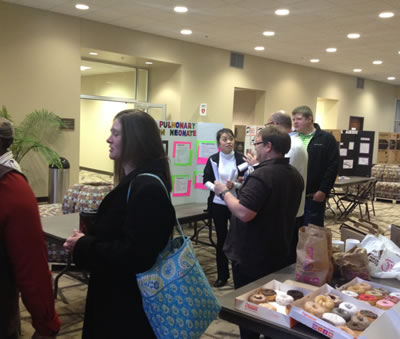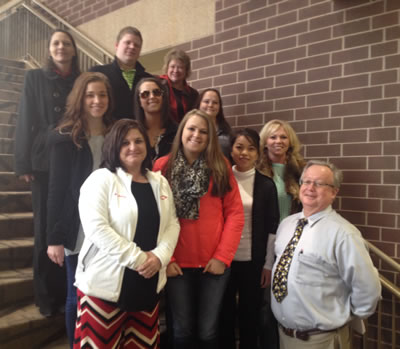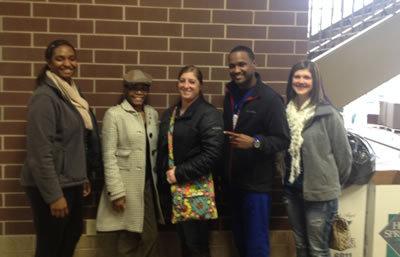 ---

2015 Election Results:
President Elect – Jennifer Parr
Vice President – David Jordan
Secretary – Jeff Copeland
Treasurer – Janelle Smith
Central District Vice Chair – Nicole Drewry
Northeast District Chair – Jessica Alphin
Northeast District Vice Chair – Chris Riggs
Northwest District Vice Chair – Janie Castro-Rio
South District Vice Chair – Mark Meyers
---

The ASRC mission is to provide effective leadership that promotes the Respiratory Care Profession and its skilled practitioners as leaders in the field of pulmonary medicine through patient, community and healthcare provider education.
---